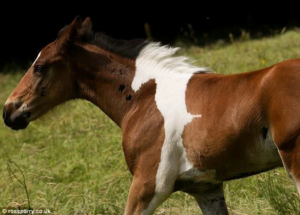 Interestingly, horses may be distinguished from one another by the distinctive colt pattern that covers every part of their body. It is true that people tend to notice skin color first, which makes it easier for them to identify a certain breed right away because some breeds lack these patterns because their colors are uniform throughout.
Typically, the patterns are so abstract that I refer to them as a beautiful mess. The markings are distributed irregularly all over the horse's body, but it looks very artistic and makes a horse easily distinguishable from other horses. The foal we'll be discussing is unique in comparison to the others. I just mentioned irregular patterns that don't mean anything, but this adorable baby foal stands out from the crowd due to a very distinct marking on his body.
A lot of people would say that it is photoshopped, but it is actually very real. I couldn't believe it when I saw it for the first time, a horse-shaped white marking on his body, it looks like a mini horse pictured on a horse's body. Let's get to know this unique little foal named Da Vinci a little better. DaVinci was born at the Fyling Hall School close to Robin Hood's Bay in the UK.
The campus has sculpted topiaries, undulating hills, ivy-covered walls, and pastures where ponies graze. It appears to be a scene from a Harry Potter book. The burgundy school uniforms and Georgian stone manor residence would be completely at home at Hogwarts! One of the most adored horses at the Flying Hall School, Vinny is known by everyone by that name.
Would you want to see more of this remarkable foal? Watch the video below:
Video: